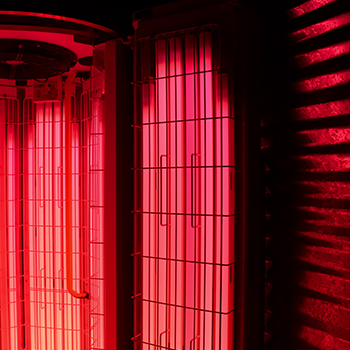 By emitting red lowlight waves through your skin, this form of therapy naturally triggers tissue recovery in your body while enhancing blood flow and stimulating collagen. The red light rays are absorbed into the body to a ten-millimeter depth and carry positive effects on your nervous system, metabolic process, and cellular energy. Red light therapy is painless, and it has over time exhibited enhanced capability to treat joint pain and osteoarthritis caused by aging
For the Red Light Therapy to have maximum results, we recommend 3 sessions a week for 6 weeks. 
Reduce Visible Signs of Aging
Increases skin fibroblast activity, produces elastin & collagen fibers to create visibly smoother & younger-looking skin.
Improve Skin Complexion
Stimulates the production of elastin & collagen fibers to create smoother skin.
Stimulate Circulation
Stimulates blood flow & oxygen delivery to improve wound healing.
Reduce Inflammation
Shown to have anti-inflammatory effects similar to NSAIDS (e.g. ibuprofen) by decreasing inflammatory causing proteins.
Speed Healing Process
Stimulates cells to increase collagen synthesis & help heal wounds.
Infrared Sessions - Wellness Pod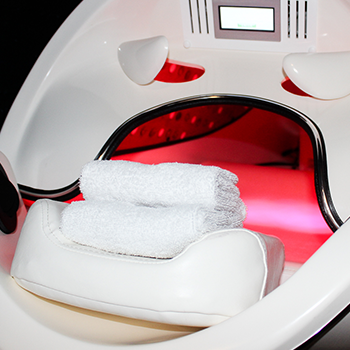 To put it simply, it is an infrared sauna pod that uses a combination of dry heat air system, dual vibration and an infrared heating system that heats up the body from the inside and produces an array of benefits for your health.
For the Wellness Cocoon to have maximum results, we recommend one 30 minute session a week.
Soothe Aches & Chronic Pain
Decreases sensitivity of nerve pathways & decreases levels of pain mediators.
Increase Flexibility, Range of Motion
Warms the muscles similar to light exercise through deep penetrating heat.
Boost Immunity
Increases production of antibodies which help the body fight viruses, infections & allergies.
Stimulate Circulation, Speed Healing
Stimulates increased blood vessel dilation, increases proteins, peptides & blood flow which promote wound healing.
Not sure which option is right for you?
Our knowledgable staff can provide you with more details and make suggestions based on your goals. Feel free to call, email or stop by.